News 12: Fordham Road BID Interview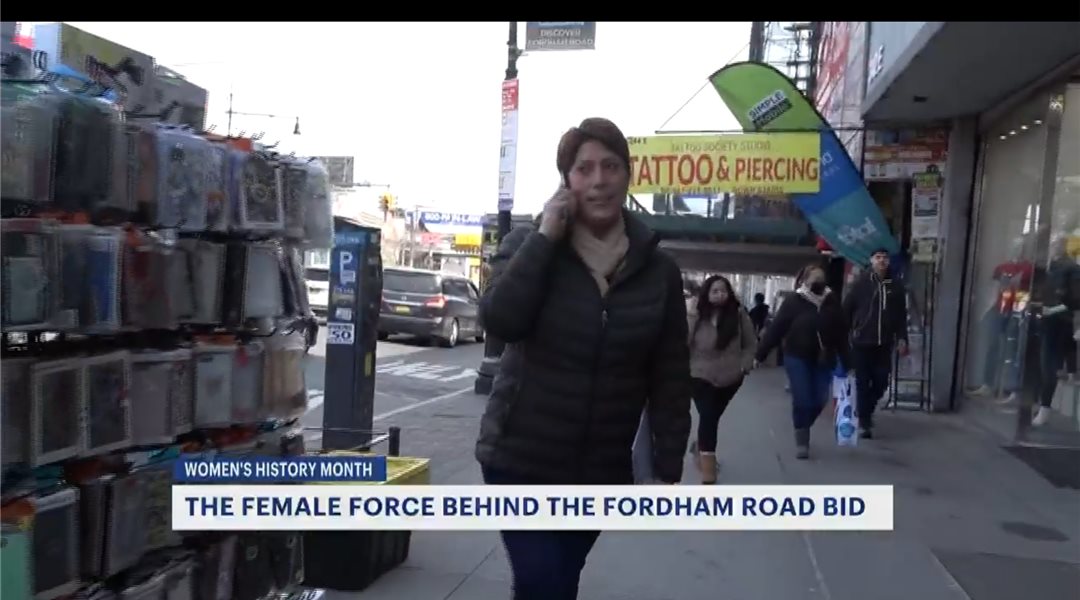 Tuesday, March 29, 2022
Wilma Alonso, longtime BID director, says Fordham Road is 'thriving'
Full story and video here: https://bronx.news12.com/wilma-alonso-longtime-bid-director-says-fordham-road-is-thriving
Wilma Alonso has been the executive director of the Fordham Road Business Improvement District for 17 years and involved with the area for another 10. She says she's a troubleshooter, which makes her perfect for the role.
"They call me the godmother of the stores of Fordham – and they call me Miss Fordham," she told News 12.
She oversees 300 businesses along Fordham Road – from small sneaker shops to global chains.
She prides herself on being able to connect with the diverse array of owners.
"It's really important to embrace the new generation, especially women," she said.
Alonso understands the big responsibility on her shoulders, which only got heavier during the pandemic. She helped to provide resources, guidance and comfort to businesses to help them survive.
"If it doesn't kill you, it makes you stronger - and I think that we are thriving," she said.
Moving into the area soon will be a Target store, a Five Below and a new bubble tea spot. They will mix with shops that have stood the test of time, such as the women-owned health food store that's been in the neighborhood for 31 years.
"It's been empowering actually, and it's just been wonderful to have this experience to be in this community and do this for so long," Alonso told News 12.
She says the character, the history, the vibrancy and even the noise make Fordham Road what it is – and she has no plans to change that.

__________________________________________________________________________________________________________
Wilma Alonso ha sido la directora ejecutiva del Distrito de Mejora Comercial de Fordham Road por 17 años y ha estado involucrada en la zona por otros 10 años más. Dice que es una "solucionadora de problemas", lo cual la hace perfecta para el papel.
"Me llaman la madrina de los comercios de Fordham - y me llaman Miss Fordham," dijo a News 12.
Supervisa 300 negocios a lo largo de Fordham Road, desde pequeñas tiendas de zapatillas hasta cadenas mundiales.
Se enorgullece de poder conectar con la diversidad de propietarios.
"Es realmente importante acoger a la nueva generación, especialmente a las mujeres", dijo.
Alonso es consciente de la gran responsabilidad que tiene sobre sus hombros, que no hizo sino aumentar durante la pandemia. Ayudó a proporcionar recursos, orientación y comodidad a las empresas para ayudarlas a sobrevivir.
"Lo que no te mata, te hace más fuerte - y creo que estamos prosperando," dijo.
Pronto llegarán a la zona un Target, un Five Below y un nuevo local de bubble tea. Se mezclarán con tiendas que han resistido el paso del tiempo, como la tienda de alimentos saludables propiedad de mujeres que lleva 31 años en el barrio.
"La verdad es que ha sido un estímulo, y ha sido maravilloso tener esta experiencia de estar en esta comunidad y hacer esto durante tanto tiempo", dijo Alonso a News 12.
Dice que el carácter, la historia, la vitalidad e incluso el ruido hacen de Fordham Road lo que es, y no tiene planes de cambiarlo.